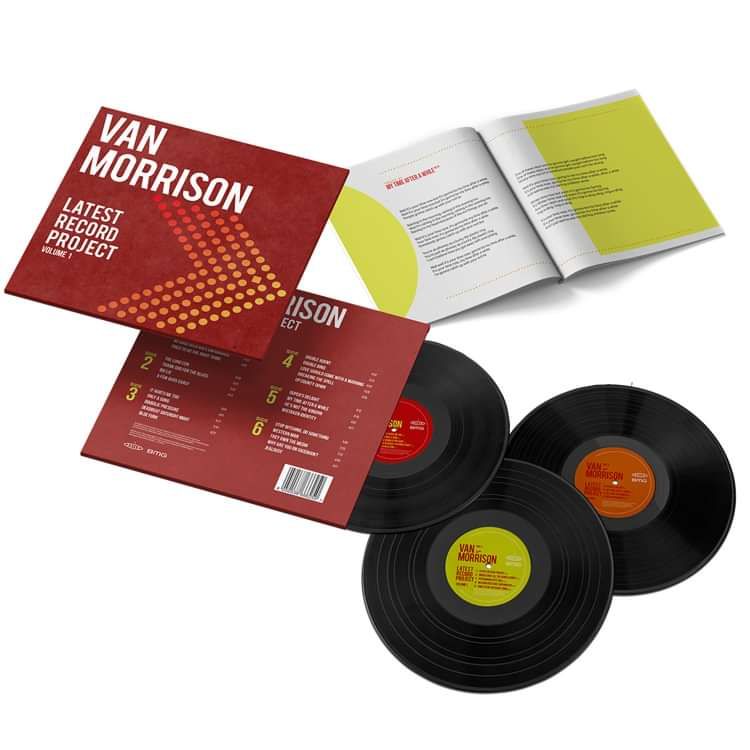 Van Morrison - Latest Record Project Volume 1 - Triple Vinyl LP
Official Van Morrison Merchandise
Triple gatefold vinyl of the brand new album from Van Morrison.
Latest Record Project' is the opening track and introduction to Van Morrison's forthcoming 42nd studio album 'Latest Record Project Vol. 1' which explores the classic and timeless quality of the blues from a fresh perspective. Van charms the listener, soulfully singing "Have you got my latest record project?" Instinctive walking basslines, colourful backing vocals, and organ melodies bring warmth to his latest release. Equal parts blue-eyed soul shouter and wild-eyed poet-sorcerer, Van Morrison's status as an artist of integrity and distinction is self-evident.
DISC 1 SIDE A 1. Latest Record Project 2. Where Have All the Rebels Gone? 3. Psychoanalysts' Ball 4. No Good Deed Goes Unpunished 5. Tried to Do the Right Thing SIDE B 6. The Long Con 7. Thank God for the Blues 8. Big Lie 9. A Few Bars Early
DISC 2 SIDE C 10. It Hurts Me Too 11. Only a Song 12. Diabolic Pressure 13. Deadbeat Saturday Night 14. Blue Funk SIDE D 15. Double Agent 16. Double Bind 17. Love Should Come With A Warning 18. Breaking The Spell 19. Up County Down
DISC 3 SIDE E 20. Duper's Delight 21. My Time After a While 22. He's Not the Kingpin 23. Mistaken Identity SIDE F 24. Stop Bitching, Do Something 25. Western Man 26. They Own the Media 27. Why Are You on Facebook? 28. Jealousy EU Customers – VAT has been deducted from the price of this product. You may now be charged local VAT, Customs Duty and handling fees on delivery.